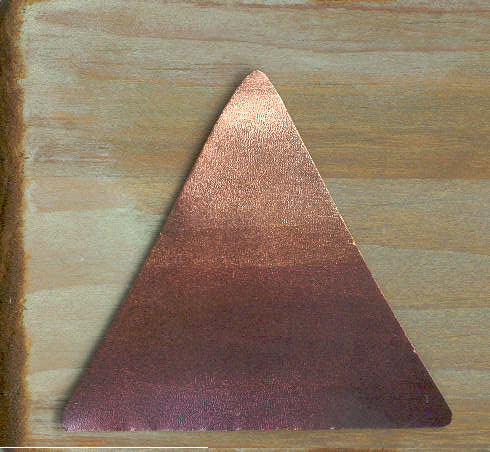 Home | Picture Gallery | Contact Info | Store Locations| Links
Description
Brown Tarnish works on metal alloys such as copper, brass, and bronze to produce a rainbow brown in a matter of seconds. The colors range from a light tarnished penny brown to a very dark near black shade of brown. Copper and copper alloys can be darkened, or darkened and then burnished for a natural antique effect. The longer the part is in contact with the solution, the darker the tarnish. The process can be stopped at any point simply by rinsing the darkened part with water. As a result, the user has the ability to effect multiple shades of brown using just one solution.
Primary use
To tarnish copper, brass, bronze, and other copper alloys.
Application Method
Brown Tarnish only works on copper, brass, bronze and other copper alloys. It will not work on our metallic coatings. Immersion is the recommended method of application. For an even finish, clean the metal of all dirt, oil and previous tarnish. When used as an immersion solution, Brown Tarnish follows a predictable pattern of color change regulated by the amount of time the part is immersed. Brown Tarnish may also be applied in many other fashions such as spraying, rubbing, pooling, etc. These methods are best used for general, uneven antique and tarnish effects. When desired look is acheived using any of these methods, rinse part with water to stop the tarnishing. Then dry and seal with our acrylic gloss or matte sealer.
View Video Demonstration

Technical Data
As with all chemicals, wear protective clothing, latex gloves, eye protection and avoid breathing mist. Use adequate ventilation with a chemical respirator when spraying. No known shelf life.
VOC is under 250