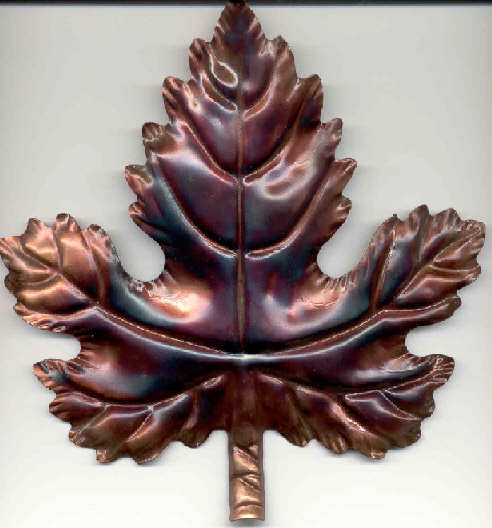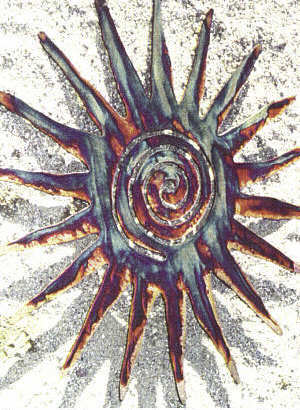 Home | "How To" Demos | Picture Gallery | Contact Info | Store Locations | Links
Description
This solution is designed to be used on steel in conjunction with our Copper Plate. Rainbow Torch will create a wide variety of colors similar to those produced by the application of intense torch heat upon steel. These effects are easy to create, and are limited only by your imagination. With a little practice, a competent metal finisher can render extremely complicated colorful patterns and designs on steel in this easy to use, two step process. Many shades of blue, gray, green, red, and brown result when this solution is sprayed on top of our Copper Plate solution. The end result is a bright, colorful, multi-hued finish. If you desire a more subtle look, these colors and textures may be further altered by allowing the finished part to oxidize naturally for a controlled period of time. Oxidation softens and textures the colors, resulting in a more matte-like finish.
Primary Use
Produce multi-colored effects upon steel surfaces plated with our Copper Plate.
Application Method
First plate the steel with Copper Plate according to the directions. You do not have to dry the plated part before using Rainbow Torch. The Rainbow Torch solution can be applied in many different ways, but the usual method is to spray the areas you wish to color with a concentrated mist until the colors begin to form. Most users prefer to use an airbrush with a controllable tip. A plastic bottle with a mist trigger sprayer is adequate for many purposes. Drops of solution can be placed upon the plated surface and then blown in random directions to form sunbursts, lines or random patterns. Regardless of the method of application, wherever the solution comes into contact with the plated surface, color changes will occur. The colors formed will include shades of gray, blue, green, and red plus many more. Once the desired look is reached, rinse the part with water to remove the excess solution. Apply Rust Arrest, allowing it to react for twenty seconds, rinse again and then quick dry to avoid oxidation. Then sealer finish with our Acrylic Matte or Gloss sealer.
Basic Instructions
Clean the metal. (e.g..Sandblast or Grind)
Immerse or spray the metal with the Copper Plate.
Rinse steel w/ water.
While steel is wet, spray steel with Rainbow Torch solution until torched appearance is acquired.
Rinse steel with water.
While steel is wet, spray on Rust Arrest and let it work for at least 15 seconds.
Rinse steel with water.
Immediately, dry steel with compressed air.
Seal with Metal Finishes PLUS? Matte or Gloss Acrylic Sealer.
View Video Demonstration

What If?
I only get shades of gray---------------You have over applied the Rainbow Torch.
I spray Rainbow Torch and nothing happens----It only works on our Copper Plate.
Nothing seems to happen when sprayed on Copper Plate--------------You have not applied enough Rainbow Torch.
Technical Data
As with all chemicals, wear protective clothing, latex gloves, eye protection and avoid breathing mist. Use adequate ventilation with a chemical respirator when spraying. No known shelf life.
VOC is under 250